Psst! Pre-order Little Star 7
at a special pre-publication price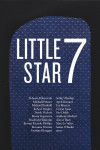 $13.00 per issue, including postage and handling, anywhere in the world
 $18.00 for our new issue plus an available back issue (see below)!
(We'll send you #6 unless you tell us otherwise at assistant@littlestarjournal.com)
Our new issue, Little Star #7, is almost here!  There is still time to order at our discounted pre-publication price.
We also have a special offer: Order Little Star #7 with an available back issue for only $18, shipping included.
Our new issue includes Michael Kimball, Aaron Their, April Bernard, Les Murray, Robert Wrigley, Rowan Ricardo Phillips, Cynan Jones, Tadeusz Dabrowski, Gro Dahle, Susan Wheeler, Anthony Madrid, Robert Wrigley, Derek Walcott, Josefine Klougart, Maria Stepanova (translated by Sasha Dugdale), Friedrich Hölderlin (translated by Bruce Lawder), Michael Palmer, Nina Bogin, Barry Gifford, Mary Jo Salter, Rosanna Warren, Serhiy Zhadan, more
---
Little Star 6 (2015)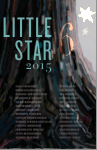 Issue #5, 2014: $14.95 per issue (plus $4.00 for postage and handling in the US, $10.00 internationally))
Jeannie Vanasco, Attention All Students
The Chamber
Classified
The Blasphemer
The Dictator Takes to His Telescope
Rav Grewal-Kök, Not the Hood
An Empty House
Srikanth Reddy, Pop Quiz (poem)
Eugene Lim, First Days on Father Island
Jacqueline Waters, from Commodore (poem)
César Aira, The Cart
A. L. Snijders, A Woman
Africa
Eva
The Baker's Wife
Town Line
In Louth
Eugene Ostashevsky, Three poems
Ange Mlinko, Hershey Suite (poem)
Milkweed (poem)
In the Gods (poem)
Black Swan (poem)
Trouville (poem)
The Bayou Tapestry (poem)
Listening Posts (poem)
Major Jackson, Every Island is Filled with Loneliness (poem)
Urban Renewal xxi. (poem)
Urban Renewal xxv. Salobreña
Melissa Green, "In Francesco's del Cairo's Herodias with the Head of St. John" (poem)
Rowan Ricardo Phillips, An Excuse for Mayhem (poem)
The Descent of Jupiter Over the Maroon Bells (poem)
Eliot Weinberger, The Creation
Hsiao Kuan
The Frog Room
Hsieh Ling-Yün
The Dead
The Mara
The Lushei
Agate
William Sharpe
Ryszard Krynicki, You are (poem)
Save me, guide me (poem)
I can't help you (poem)
Darcie Dennigan, Between the Acts (poem)
Rebecca Lilly, Wellhead
Susan Landry, Russian Scientists Bore Into Ancient Antarctic Lake (poem)
Dan Sofaer, Early Lesbians (poem)
Jeff Horn, Castor
Jordan Zandi, Snow Children (poem)
Per Pettersen, The King Is Dead
Before the War
Chris Preddle, The Servant Pines (poem)
Cape Cod (poem)
Georgi Gospodinov, Minotaur
John Moran, What Feeds Them
Ron DeMaris, Vermeer: Tavern Keeper (poem)
Gerbrand Bakker, Mandarin Ducks
Cynthia Zarin, Dear and Blackbirds (poem)
Tim Parks, Brotherly Love
Les Murray, Goths in Leipzig (poem)
Under the Lube Oil (poem)
All of Half Way (poem)
Winter Garden (poem)
Raising an Only Child (poem)
Menno Wigman, The Way of All Books (poem)
To My Dick (poem)
Old West* (poem)
Tim Parks, Mrs. P
James Stotts, amusements (poem)
Linda Gregerson, Thinking About Thinking in Marianne Moore
A. M. Clark, "And then I beg You, take this heart of mine" (poem)
What's Hollowed Out (poem)
Glyn Maxwell, Picnic (poem)
Barry Spacks, Name-Day Song (poem)
---
Order Little Star 5 (2014)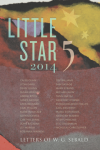 Issue #5, 2014: $14.95 per issue (plus $4.00 for postage and handling in the US, $10.00 internationally)
Or $7.95 for a PDF copy
suitable for e-readers
Or order by mail: Print PDF form
Joy Williams, "The Mission"
Tung-Hui Hu, "Woman, Shut-In for Six Years, Found by Distant Relative" (poem)
"Liver" (poem)
"1079: William the Conqueror Creates New Forest" (poem)
Maria Stepanova, "Fish" (poem)
Jordan Zandi, "Chamber Music" (poem)
Sam Savage, "Ducks"
"Twelve Stories"
"Balloons"
"Rita"
"Thespa"
Geoffrey O'Brien, "The Chimes" (poem)
"For the Unworshipped Gods" (poem)
"The Coast of Skeletons (1930)" (poem)
"Jungle" (poem)
"Kleist" (poem)
"An Averted Face" (poem)
"Another One for Joel" (poem)
"Monsieur Zero" (poem)
"September 3rd" (poem)
"Senseless" (poem)
"A Yard at Daybreak" (poem)
"Silence" (poem)
"The Woman Who Loved Mist" (poem)
Susan Wheeler, "Eleanor 2012, Shrove Tuesday 1976″ (poem)
Mark Strand, "An Unforgettable Poem"
"A Forgotten Poem"
Rowan Ricardo Phillips, "Two Poems" (poem)
James Arthur, "Talking Song" (poem)
"Frankenstein's Monster" (poem)
"Road" (poem)
Dean Young, "A Drawing of Conception" (poem)
"What Kept Me Alive" (poem)
"Flash Powder" (poem)
Caleb Crain, "Quitting Time"
Lydia Davis, "My Village" (poem)
Carl Phillips, "From a Land Called Near-Is-Far" (poem)
"Foliage" (poem)
Cynthia Zarin, "The Impulse Wants Company" (poem)
"Fawn" (poem)
"Flowers" (poem)
Marilyn Hacker, "Four Ghazals" (poem)
W. G. Sebald, "Letters to a Translator"
Bruce Lawder, "Monument Against Fascism"
"The Last Boat"
"Rain"
A. M. Clark, "Not There" (poem)
"The Prodigal" (poem)
Howard Altmann, "In Dark Waters" (poem)
Arthur Solway, "Anima Mundi" (poem)
"Airport Blues" (poem)
AntHony Madrid, "Limericks" (poem)
Andrei Bitov, "Posthumous Notes of the Tristram Club"
Michael Klein, "Things That Might Be True" (poem)
"The Medium" (poem)
"The Motivation of the Actor" (poem)
"A Movie about a Homosexual" (poem)
"Music for the Theater" (poem)
Peter Cherches, "A Certain Document"
Nicholas Christopher, "The Secret Life of Lois Lane" (poem)
April Bernard, "The Nockamixon Road"
Randi Ewing, "Old Toad"
Young Rader, "The Riparian Book"
"Passage"
Marin Buschel, "The Motel Report"
Rosanna Warren, "'Mots en Liberté, Dinamisme Plastique!': Max Jacob's Paris, 1911–1914″
Rachel Stern, "The Last Plague"
Kyra Simone, "The View from the Tower"
Stig Dagerman, "Our Need for Consolation is Insatiable"
Benjamin Fundoianu, "The smell of autumn rain…" (poem)
Glyn Maxwell, "Gospel According to Matthew" (poem)
Les Murray, "The Privacy of Typewriters" (poem)
"Grooming with Nail Clippers" (poem)
Karl Kirchwey, "A Letter from Istanbul" (poem)
Ron De Maris, "Yucca" (poem)
---
Order Little Star 4 (2013)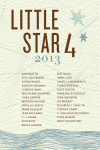 Issue #4, 2013:
Print issue out of stock, PDF available
Or $7.95 for a PDF copy
suitable for e-readers
Gary Snyder, "Starting the Spring Garden and Thinking of Tom Jefferson" (poem)
Eamon Grennan, "At the Fish Market" (poem)
John Moran, "Clog Warrior"
Sigrid Nunez, "Love and Fiction"
Alice Fulton, "Active Night" (poem)
"After the Angelectomy" (poem)
"Custom Clamshell Cases" (poem)
"Personal Reactor" (poem)
"Sheep Pen" (poem)
Ann Beattie, "Company"
Les Murray, "When Two Percent Were Students" (poem)
"High Speed Trap Space" (poem)
Bruce Lawder, "Desert Marriages" (poem)
Jeet Thayil, "Life Sentence" (poem)
"Saint X"
Henri Cole, "The Paranoid Forest" (poem)
Nikolai Leskov, "A Little Mistake"
Mark Halliday, "La Marquise de Gloire" (poem)
"Index of First Lines" (poem)
"Index of Second Lines" (poem)
"Tangen" (poem), "Double Reverse" (poem)
"Just In Time" (poem)
Stig Dagerman, "Evening Promenades"
Arkady Dragomoshchenko, "Ludwig Josef Johan" (poem)
Charles Simic, "The Foundlings" (poem), "Stories" (poem)
Wolfgang Koeppen, scenes from Youth
Tomasz Rózycki, "A Grandson Returns" (poem)
Misty Woodford, "In the Future, Consider Us Both Sides of the River" (poem)
"Fenestra" (poem)
Anakana Schofield, "Before Arbour Hill"
James Logenbach, "One More Thing" (poem), "Pastoral" (poem)
CJ Evans, "Inquiry Into Cinder" (poem)
Don Russ, "O Mother Pasiphaë" (poem)
Elizabeth T. Gray Jr., "The Jeweled Deer" (poem)
"Circumambulation" (poem)
"The Festival of Navaratri" (poem)
"In the Hills" (poem)
"Kalı Meditation" (poem)
"Blake Goes Home" (poem)
"Ghazal" (poem)
Jean Valentine, "Hospice" (poem)
"After: Isn't there something" (poem)
"After: Down on the street" (poem)
Marilyn Hacker, "The Stranger's Mirror" (poem)
Cynthia Zarin, "Meltwater" (poem)
---
Order Little Star 3 (2012)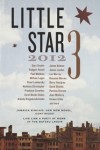 Issue #3, 2012: $14.95 per issue (plus $4.00 for postage and handling in the US, $10.00 internationally)
Or $7.95 for a PDF copy
suitable for e-readers
Or order by mail: Print PDF form
— Contents —
Lewis Horton, "Please, Turn Off Your Cell Phones and Leaf Blowers"
Nicholas Christopher, "A Novel in Ten Chapters" (poem)
Arkady Dragomoshchenko, "The tree's wintry empire—that's what" (poem)
Rosanna Warren, "Passage" (poem)
"Rosh Ha-shanah"(poem)
"Alberto de Lacerda" (poem)
"Traffic" (poem)
Les Murray, "Flood Time Night Shelter" (poem)
"Powder of Light" (poem)
"Non-Swarming Bees" (poem)
Gary Snyder, "Anger, Cattle, and Achilles" (poem)
Barry Yourgrau, "The Sea"
"Fuzzy and the Grapes"
Giles Harvey, "The Writing Life"
"Elegy for an Imaginary Philosopher" (poem)
Kenneth Bernard, Five Wittgenstein Poems (poems)
Pavel Lembersky, "Humble Beginnings"
"Status Quo"
"So Long, Dos Passos"
Evan Rehill, "The Spade"
William Logan, "The Sunny South" (poem)
Prudence Crowther, "Bartleby: The Corrections"
James Kelman, "this has no title"
Melissa Monroe, "Team" (poem)
David Shields, "Saving My Life"
Paul Muldoon, "A Pillar" (poem)
Melissa Green, "Maudlin Speaks of Trees" (poem)
"Maud as a Maid" (poem)
"Mad Maud's Complaint" (poem)
"Mad Maud at the River" (poem)
"Mad Maud and the Swans" (poem)
"Mad Maud at the Cat & Bitch Yard" (poem)
"Mad Maud's Four Dreams" (poem)
"Mad Maud's Song" (poem)
"Maud and the Abram Man" (poem)
Chris Preddle, "Heloise" (poem)
"Mary" (poem)
Abby Rosebrock, "Spring Speaks" (poem)
"Pitch" (poem)
"Conduct Manual" (poem)
"The Augustines of Email" (poem)
"Natasha" (poem)
"March Dream" (poem)
"Scene" (INT. car)" (poem)
"Future Baby" (poem)
"The Seventh Day" (poem)
Patricia Storace, "Two Portraits of Women Reading" (poem)
Jamaica Kincaid, "See Now Then"
Kate Bernheimer, "Goodnight"
Travis Kurowski, "Once, I built a great machine" (poems)
Jean McGarry, "Rella"
James Lasdun, "Watcher" (poem)
"Dust" (poem)
Kirmen Uribe, "That Tiny Playful God" (poem)
"Birth" (poem)
"In Hiding" (poem)
"Father's House, Even I" (poem)
Elizabeth Macklin, "The Erraldoiak in Times Square" (poem)
Carol Muske-Dukes, "The Painter Reconsiders His Canvas" (poem)
Padgett Powell, "The New World"
Steven Cramer, "Clang" (poems)
Magdalena Tulli, "Bronek"
Zuzanna Ginczanka, "Non omnis moriar" (poem)
Revan Schendler, "Messenger"
George Kalogeris, "Astoria" (poem)
"Tsitari" (poem)
Rosanna Warren, "Live Like a Poet! At Home in the Bateau Lavoir"
Martin Edmunds, "Chez Nous" (poem)
Order Little Star 2 (2011)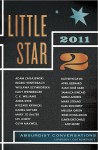 Issue #2, 2011:
Print issue out of stock; PDF available
Or $7.95 for a PDF copy
suitable for e-readers
— Contents —
Mary Jo Salter, "Voice of America" (poem)
Elizabeth T. Gray, Jr., "In the Alleyway of the Beloved" (poem)
"When We Thawed the Tomb" (poem)
"The Stave Church at Urnes" (poem)
Glyn Maxwell, "This Whiteness" (poem)
Eliot Weinberger, "Changs Dreaming"
Juan José Saer, "The Traveler"
Susanna Lang, "Night Letters" (poem)
April Bernard, "The Fixed Idea"
Ryszard Krynicki, "That's Your Problem" (poem)
"Pigeons" (poem)
James Stotts, "i'm with the dogs" (poem)
"i went out under the warm winds of midnight " (poem)
C. K. Williams, "La Chatte " (poem)
Mark Strand, "Students of the Ineffable" (poem)
"You Can Always Get There From Here" (poem)
"The Gallows in the Garden (poem)
"There Was Nothing To Be Done" (poem)
"In the Afterlife" (poem)
"Nocturne of the Biscuits" (poem)
"Exhaustion at Sunset" (poem)
Jamaica Kincaid "The Dean and Mrs. Hess"
Nina Bogin "The Blue Threshold" (poem)
Steve Kronen, "Francis, Xanthus, & Mr. Ed" (poem)
"1948″ (poem)
"A Kind of Quarried Marble" (poem)
Daniel Pritchard, "Idol" (poem)
Robert Wrigley, "Now Here" (poem)
Nevertheless, "It's Gone(poem)
Jo Pitkin, "Luna Moths" (poem)
Adam Zagajewski, "And the Lovely Garonne(poem)
"Music of the Lower Spheres" (poem)
"Silhouettes(poem)
"Mute City" (poem)
"Leonardo" (poem)
"Dozing Over a Volume of Cavafy" (poem)
"It Was a Holiday" (poem)
"Like King Asini" (poem)
John Edminster, "Devotional Poems"
Barry Spacks, "Three Poems"
Anna Swir, "Thoughts of a Fourteen-Year-Old Nurse" (poem)
"The Last Polish Uprising" (poem)
"The Rats Remain" (poem)
Cynthia Zarin, "Hancock Graveyard (New Hampshire)" (poem)
"Shark" (poem)
"Mirror" (poem)
Ron De Maris, "The Thinker at the End of the Sea" (poem)
"Losing It" (poem)
Kathryn Davis, "The Rain of Beads"
Eugene Ostashevsky, "Three Poems of a Pirate and His Parrot"
Elmer Diktonius, "Big and Little Me" (poem)
"The Modern Madonna" (poem)
Daniel Sofaer, "Poem for a Basque Fortune Teller" (poem)
Dennis Saleh, "Crescent" (poem)
"Becalmed" (poem)
"Merít Upon the Riverbank" (poem)
"Xanthopsic" (poem)
"Yellowmore" (poem)
"Yellowton" (poem)
"Sable" (poem)
"Tired Poem" (poem)
Melissa Green, "Taxonomy" (poem)
Lev Loseff, "This city's alive, building upward and outward" (poem)
Leonid Lipavsky, "Conversations"
Wislawa Szymborska, "Poem in Honor" (poem)
Judith Berke, "Turner Classic Movies (poem)
Elena Sigman, "Raccoon"
Dave Lucas, "Lunar Calendar" (poem)
Jesse Donaldson, "The End of Constants"
Simm Landres, "Grooving to Buxtehude" (poem)
Ingrid Winterbach, "Happenstance"
Karl Kirchwey, "Mutabor" (poem)
John A. Griffin, "Epoché" (poem)
Order Little Star 1 (2010)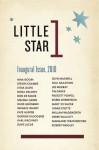 Inaugural issue, 2010:
Print issue out of stock; PDF available
Or $7.95 for a PDF copy
suitable for e-readers
— Contents —
Les Murray, "Daylight Cloth (poem)
Mary Jo Salter, "French Haiku" (poem)
Mary Jo Salter, "Ten-Minute Exercise" (poem)
Mary Jo Salter, "Nora" (poem)
Nina Bogin, "The Lost Hare" (poem)
Glyn Maxwell, "The Double" (poem)
Karl Kirchwey, Seven poems by Paul Verlaine
Paul Muldoon, "The Fish Ladder" (poem)
Lydia Davis, Five pieces
Tim Parks, "The Day Is Coming"
Tim Parks, "Grey Matter of Words"
Robert Wrigley, "Every Night the Long Swim" (poem)
Robert Wrigley, "Campfire" (poem)
William Wadsworth, "Perfect Laws" (poem)
Seamus Heaney, "Slack" (poem)
Seamus Heaney, "Had I Not Been Awake" (poem)
Steven Cramer, "In Favor of Magical Thinking"(poem)
Steven Cramer, "Costco" (poem)
Margaret Weatherford, "The Destinationist"
Dave Lucas, "The New Poetry" (poem)
Robin Robertson, "Abandon" (poem)
Robin Robertson, "Fall From Grace" (poem)
Robin Robertson, "Arsenio," (poem) by Eugenio Montale
Ron De Maris, "Starlings in Flight" (poem)
Ron De Maris, "Curiosity" (poem)
Ron De Maris, "Panther in Dwarf Cypress" (poem)
James Stotts, Sixteen poems
Padgett Powell, "Manifesto"
Durs Grünbein, "To Lord Chandos. A fax from the future" (poem)
Durs Grünbein, "Three Miniatures"
Durs Grünbein, "The Stroke of Apollo"
Kate Hunter, "Paradise Now"
Nora Delaney, "That Other Fall" (poem)
George Kalogeris, "Spring" (poem)
George Kalogeris, "Alzheimer's" (poem)
Derek Walcott, Three poems
Melissa Green, "Akeldama: Death of the Abbess"