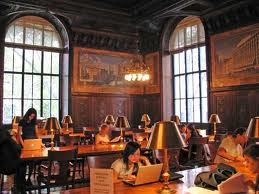 We are thrilled to be visiting the New York Public Library on Tuesday, May 8, as part of the Periodically Speaking series, in which magazines and their writers meet with readers to talk about the state of the art.
Writers April Bernard, Eugene Ostashevsky, and Elizabeth T. Gray, Jr., will join editor Ann Kjellberg to talk about Little Star and its special interest in the ways in which contemporary literature is in conversation with the literatures of the past and of the world.
As readers of Little Star know,
Eugene Ostashevsky is a poet and a translator of the Russian absurdist circle, the Oberiu poets of the 1930s. (Read a portion of his translation of the conversations of the Oberiuty here.)
Elizabeth T. Gray, Jr, is a poet and a translator of the classical and modern Farsi. (Read her translations of classical and contemporary ghazals here.)
April Bernard is a critic and novelist, author most recently of Miss Fuller, a fictionalized account of the life and death of American transcendentalist Margaret Fuller. (Read some here)
Periodically Speaking is sponsored by the Council of Literary Magazines and Presses and presided over by the library's intrepid periodical and small press librarian, Karen Gisonny. What a wonderful job! All hail Periodical Room!
A Longer view: Reading across time and space
Little Star with April Bernard, Eugene Ostashevsky, and Elizabeth T. Gray, Jr.
New York Public Library, Periodicals Room
Fifth Avenue and 42nd Street
Tuesday, May 8th, 6:00 to 7:30pm