John Cheever would have been 100 years old today, raising the disquieting prospect that the world he described may be transforming into history.
Thinking about the real and the created: In his forthcoming How Literature Saved My Life, David Shields writes
Driving around, I heard a Cheever story on the radio and found it so beautiful to listen to that when I arrived home I ran to the radio to hear the end of the story. It is as nothing, though, compared to the laser precision of the journals, which he kept from 1940 until his death in 1982. The journals are very consciously and scrupulously sculpted: they're clearly written to be read and published; they supersede anything else Cheever wrote. It's unfair, of course, to compare a fifteen-page story to a four-hundred-page book, but I couldn't help feeling that in the story Cheever lets himself get away with everything; and in the journals, nothing—he is relentless. In the story, he is grandiose and unfurls the logic of Christian forgiveness. Even as I was charmed by hearing the story aloud, I was constantly thinking, You lying sack of shit; I've read the journals. I know what it's like at ground level for you. Don't give me these happy coincidences and sweet endings, buster.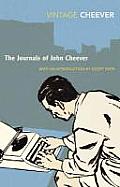 Jeff, One Lonely Guy, David Shields' collaboration with Jeff Ragsdale and Michael Logan, is just out from Amazon Publishing, the publishing imprint of Amazon. It records some of the thousands of telephone calls Ragsdale received when he posted a flyer around Lower Manhattan asking people to call him if they wanted to talk.  Shields is the author of eleven other books, most recently Reality Hunger.
Read more David Shields on Little Star, and a response by Tim Parks in the NYRB