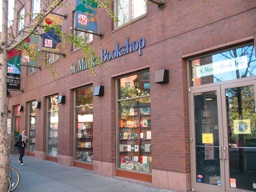 Little Star loves James Kelman. To our eye he is one of the most lyrical, subtle, inventive craftsmen of prose today. His new book, Mo Said She Was Quirky, which inhabits the mind of a woman croupier for a single inverted day, is a miracle of sympathetic intelligence. He is making a rare visit to New York this spring and we are very fortunate that he has agreed to read from the book with us in a place we love and cherish: the St. Mark's Bookshop.
That Kelman writes in Scottish is well known, hear how he reads! And show the flag for our friends at St. Mark's.
May 1, 2013; 7 PM
St. Mark's Bookshop
31 Third Avenue, New York, NY 10003
James Kelman was born in Glasgow in 1946, left school at the earliest opportunity, and began working life in a factory aged 15. Emigrated with his family to California in 1963, returned to Scotland 1964. Kelman has worked at a variety of jobs ever since. He began writing while living in London aged twenty two and later met Texan writer Mary Gray Hughes. With her support his debut story collection, An Old Pub Near The Angel was published by Puckerbrush Press, Maine, in 1973.  His fourth novel, How Late It Was, How Late, won the Booker Prize in 1994. His recent publications include story collections Busted Scotch and If it is your life; and novels, You have to be careful in the Land of the Free, Translated Accounts, and Kieron Smith, boy. Kelman has taught at the University of Texas in Austin, and San José State University, California.
His story "this has no title," appeared in Little Star #3 (2012) and portions of Mo Said She Was Quirky appeared in the premiere issue of Little Star Weekly.
Kelman and his wife live in Scotland, not far from their two daughters and two grandchildren.