Little Star has been publishing Padgett Powell since our very first issue, which included quite a bit of what became his 2012 novel, You & Me. Then in 2012 we published his story "The New World," which found its way into his new book of stories, out this week, Cries for Help: Various. We plucked another bit of Cries for Help for our digital weekly last week.
Cries for Help is the first offering of the freshly minted publishing house Catapult, love child of Black Balloon and Electric Literature. The book was acquired for Catapult by Pat Strachan, the pioneering editor who brought Powell's first book, Edisto, to Farrar, Straus, along with first books by Marilynne Robinson, Lydia Davis, and James Kelman.* Although only bearing hints of the craziness to come, Edisto ventures early into the trademark Powellian territory of wicked formal invention mapped out in a hilarious, earth-bound demotic. (His 2009 novel, The Interrogative Mood, was written all in questions.)
See how he does it when he reads and chats at Housing Works on Thursday.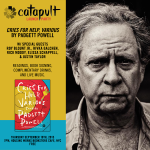 *Well, Kelman's first book in the US, and Davis's first with a non-tiny publisher, but, seriously, Housekeeping!