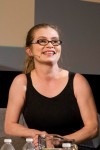 This week we are thrilled to welcome from the frosty north Vancouverian Anakana Schofield, who comes bearing her soon-to-be-published second novel, Martin John.  We are featuring it this week in Little Star Weekly (here and here) and in the second of our accidentally annual series of Little Star Cabarets, with April Bernard, who will read from a forthcoming book of poems that we also are sampling lavishly in our coming 2017 print issue. Anakana and April will be appearing with us at the atmospherically shadowy Village haunt, Caffe Vivaldi, with food and drink and chat.
Little Star Writers' Cabaret
With April Bernard and Anakana Schofield
Caffe Vivaldi
Thursday, September 24, 6:30 PM
32 Jones Street, Greenwich Village
We first encountered Anakana Schofield when the whole staff of The Dalkey Archive urged us to meet her publisher, the erudite Dan Wells, of the stellar Canadian independent, Biblioasis.  He passed a copy of her first book Malarky to us with the gleaming eyes of a convert. We were so enraptured we published a swathe of it immediately, and then included her story "Before Arbour Hill" in Little Star #4.
As an Irish lilt and dramatic impersonation are among the book's wonders, we encourage you to come hear her read it herself!