Before Arbour Hill there were three of them. There was his mother. A semi-detached, in an unremarkable cul-de-sac, housed them, with souvenirs from a holiday in Portugal on the mantlepiece. Biscuits in the tin, sheets in the hot press, and holy water inside the front door.
They were looking for one suspect in connection with the assault. They worked alone these kinds of suspects, pouncing on their victims, executing unimaginable acts with no one watching them. Yet, they were rarely on their own when rounded up. No, they were picked up in highly populated areas, lurking near a petrol station, caught in the passing sweep of someone's highlights. Sometimes they were sitting in the living room on the family sofa watching the football results like Dermot.
Malachi preferred Arbour Hill. The hope an accident would befall his brother, while he was on remand, without any real possibility of it happening, existed. Unlike Mountjoy. Things happened in Mountjoy. He worried about things happening and was angry for it.
The media were waiting. Malachi was surprised. He hadn't thought this far ahead. His mam had. She handed his brother sunglasses and a hoodie to cover his head. Keep walking, she urged him. Later at home she would admit she got the idea watching a news story months earlier. That she'd been planning for this moment, that she'd been noticing these stories, Malachi didn't like that.
Dermot ran ahead and when the journalists realized they'd lost him, they turned on his ma like crows pulling at a brown bag for the trace of crumbs. They crowded in on her with microphones and rapid questions that bounced on and off her. Public safety? Would he reoffend? Was he a danger?
His ma walked on. She whispered with her head lowered: He admitted he's guilty, he served his time, what more do you want?
They stayed with her the way debris clings to a broom. A sophisticated, young one pursued his ma. Her voice razored, her vowels strangulated.
"How would you feel if it was your daughter?" She jutted a microphone, with the number three emblazoned below its meshy head, up to his ma's lips repeating again:
"Your daughter, tonight, like, watching this on TV?"
His ma stops. Malachi doesn't like it. You never stop for a journalist's question, he thinks. He doesn't know how he knows this, but he knows it. They have her now, he thinks.
Read more this week in Little Star Weekly
Anakana Schofield is the author of the novel Malarky, which recently won Canada's First Novel Award. She lives in Vancouver, British Columbia.
Read some of Malarky on littlestarjournal.com. Hear Anakana Schofield read a bit of Malarky.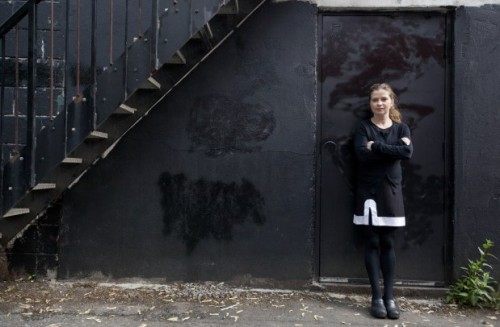 Photo by Tim Fraser for the National Post