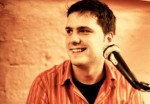 Little Star's own Kirmen Uribe will be appearing at the Brooklyn Book Festival on Sunday, September 22, 2013 (12:00, noon, in the Brooklyn Borough Hall Community Room, 209 Joralemon Street). He will be reading and joining a panel on "Cities and their Ghosts, Past and Future: What phantoms continue to haunt the landscape of our cities and our dreams? And how will these apparitions appear to us in the future, in a world even more shrouded in mystery?" It's moderated by Valeria Luiselli, who is also supposed to be great.
Read a poem by Kirmen in this week's Little Star Weekly! In it he broods a bit on taking a small, old language new places.
Meanwhile—here is a list of his appearances in New York (See Euskal Kultura: Basque Heritage Worldwide site for more details):
Friday, September 20: CUNY Graduate Center, dialogue with Esther Allen (translator, by the way, of LS's José Manuel Prieto) and Guz Jimenez, 6 PM
Sunday, September 22: Brooklyn Book Festival
Monday, September 23: Reading with Music, Poet in New York at the Bowery Poetry Club
How often do you get to hear poetry in Basque? Uribe's first book of poems was hailed as a "quiet revoution" in Basque literature. It received Spain's Spain's Premio de la Critica and sold out within a month of publication. Its translation by poet Elizabeth Macklin, Meanwhile Take My Hand, was the first literary work translated directly from the Basque to be published commercially in the US; it was a finalist for the 2008 PEN Award for Poetry in Translation.  (Read him on the centuries-old tradition of Basque poetry and the fate of the language today here.) He and Macklin collaborated on two CD/book compilations combining Basque poetry, prose, music, oral history, and video:  Zaharregia, txikiegia agian (Too Old, Too Small, Maybe) and Bar Puerto.
Uribe's innovative novel Bilbao-New York-Bilbao also created a sensation in Spain (it was published simultaneously in Spanish, Galician, and Catalan translation) and won the National Prize of Literature in 2009. His most recent novel  is Lo que mueve el mundo (2013).
His translator, Elizabeth Macklin, is the author of two books of poems, more recently You've Just Been Told. She is currently at work on translations of his more recent poems (of which four appeared in Little Star #3 and one in the current Little Star Weekly) and his novel Bilbao-New York-Bilbao.